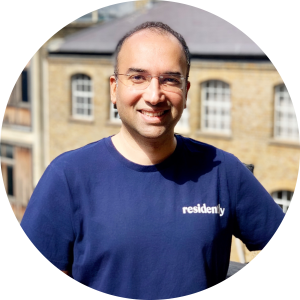 In our latest Spotlight Interview, we spoke to Shareq Husain, CEO at Residently. Shareq talks about the key contributors to their success, how AI will transform the leasing and resident management sector and what the future holds for Residently. "Oh yeah! Ai is going to be an absolute game changer and residently is going to be the leader in this revolution. We actually sit across the entire rental lifecycle, hold all the leasing, renter, property data and already have conversational interfaces with both the renter and all the stakeholders. Think resident.ly to resident.ai" 
Q1- Residently has been growing exponentially and voted as one of the top PropTechs recently. How has the business evolved overtime and what are some of the key contributors to this success? 
Renting is a £3trillion and growing global industry, but the renter experience has universally sucked. So while our mission to make renting amazing has stayed the same, how we deliver that has evolved over time.
Residently is building the operating system for home rentals. The key differentiator has been our obsessive attention to detail in bringing the entire journey for renters as well as for agents/managers/owners onto one platform. With an app for home rentals and a connecting management platform for agents/ property managers/ owners our vertical operating software provides a compelling change to renter experience (4.9/5 on trustpilot), manager efficiencies(saving over £100 a lease through ai powered automation), and owner economics(enabling leasing inhouse and saving >£1000 a new let). Vertical operating systems are expensive to build, and take time to deploy, but if done right, can get major penetration and are extremely sticky and profitable. This is a good read that summarises the vertical OS playbook which Residently is executing. Residently has a clear headstart to be the leader for Europe before eventually scaling into the US.
The key contribtutors to our mission has been our:
Team: We have assembled an all-star cast of Engineers, Data Analysts, and Operations experts who are obsessed with solving the problems of renting. The team spirit is great, and they really support each other through thick and thin.

Investors: Amazing support from Love Ventures, Felix Capital, AO Proptech, Angels, Reach UK and the founder has been imperative to our success as they've backed us financially on our ambitious mission.

Philosophy & Culture: We have re-imagined and built from the ground up what an amazing rental journeys looks like, with renter experience at the heart of it. And by aiming to make the renter experience better we are also solving for total Ai powered automation to make it more efficient for property managers, and solving for voids/ability to lease up inhouse to make renting more profitable for owners. This triple win will attract further capital into more rental homes, which we hope will help provide some relief to the over heated rental market.
Combo of the above means I am confident we will build the biggest proptech to come out Europe since Rightmove. 🚀
Q2- Residently places a strong emphasis on the well-being of its residents. How do you ensure residents needs and concerns are met in time?
Great question, we are big believers in the power of technology to transform customer experiences. For residents it is typically really confusing who to contact and how to contact them for the various challenges they may face in the rental journey. Our app makes it super easy to raise an issue – and we use smart triaging tech to assign it to the right person to resolve their issue. What is a little bit of magic is that we can connect the "ticket" to an agent if its related to viewings, a property manager for maintenance, to the service provider for home services (JustMoveIn) – but the renter does not have to worry about the contact details. And then all replies come back into the app.
We will also soon be launching Ai powered residently chat bot to give a first instant reply to any question a renter may have. We already have a huge proprietary data set across the 1000's of issues renters have raised through the app which is going to power the next gen experience.
Q3- AI has been emerging as a must use tool for organisations within the industry. Can you tell us how you see AI changing the leasing and resident management sector? 
Oh yeah! Ai is going to be an absolute game changer and residently is going to be the leader in this revolution. We actually sit across the entire rental lifecycle, hold all the leasing, renter, property data and already have conversational interfaces with both the renter and all the stakeholders. Think resident.ly to resident.ai 😎
Our Ai powered journey will allow a renter to converse and be matched with an ideal home that meets their needs (as well as meeting referencing requirements), with viewing slots automatically optimsed for an efficient slot with the agent/property manager. The offer and referencing process will become fully conversational and will be completed INSTANTLY. Any questions/negotiations a renter has about the contract will be answered by our resibot. On going first line of customer queries will be answered by the Ai powered bot, leaving a lot of time for the lovely humans of the property sector to focus on a) building deeper and more personal relationships with renters b) tackling the more difficult/edge cases and c) having more time to think about innovation and proactive engagement.
Q4- Property management often involves dealing with different stakeholders such as tenants, property owners and service teams, can you tell us a bit more about how you manage these different processes? 
Yes you are absolutely right – renting involves a lot of different stakeholders. By unifying the journey on one platform we actually make it much easier for the renter to interact with them – they use our app to surface any issue and it get directed to the right stakeholders automatically. The unified data gives an overview access to the property manager/owner to make sure the renter is holistically being looked after. Our platform enables collaboration and handoffs – e.g. an agent can initiate an offer from our platform – and it automatically will get handed over to the referencing agency, property manager and owner when it is their turn to take an action.
Q5-Looking ahead, what does the future hold for Residently and are there any announcements we should be aware of? 
We are so excited about what's next for Residently. We have raised a fresh round of investment led by Love Ventures and supported by AO Proptech and Felix Capital. I (shareq) have stepped up into the CEO role, with the founder becoming chairman.
After being heads down building the core product over the last 3 years with major reference customers like Touchstone & Dorrington we are ready for a major scaleup first across UK then Europe.
We are also going to be launching some super cool features like a) In-house lease-up product to fill a property with existing onsite staff and eliminate voids b) Ai powered chatbot to handle renter queries across the lifecycle c) Advanced Yield Management suite which covers pricing and customer analytics for owners to make smarter decisions on how to invest for e.g. in refurbs/amenities to better serve their renters d) rental payments covering from holding deposits, upfront payments, monthly payments and automatic arrears collections making collection,reconcilation a total breeze for the property sector and renters alike.
We are on the lookout for talented engineers particularly with expertise in advanced machine learning/ai and payments so if you're reading this and you're excited by our mission to transform renting, please get in touch!