We are delighted to announce that from March 2022, UKPA will be transitioning back to an office setting at the Exchange (branded as XCHG), an exciting new workspace community within one of London's leading sustainable and smart buildings: 22 Bishopsgate.
NewFlex, a leading operator of 'space-as a service' solutions, which boasts 50 sites throughout the UK, has been chosen to manage and curate the incubator and innovation workspace community within the building. With the vision to foster a unique environment of innovation and creativity for start-ups, scale-ups and SMEs, the Exchange comprises a c.14,000 sq ft flexible office and co-working space on Level 7, and will be NewFlex's most significant space as-a-service project to date.
In accordance with an agreement made between the City of London and 22 Bishopsgate, 50 memberships within the Exchange will be reserved as incubator space for small businesses that show high growth potential. These business should also have been trading for less than 5 years and employ less than 10 staff. With UKPA being one of the first members of XCHG, we are grateful to NewFlex for partnering with us, permitting us and similar growing enterprises to have access to a high-quality workspace, amenities and invaluable opportunities to co-work with a vast array of business sectors.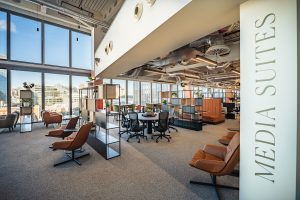 As we transition back to a more hybrid approach to working, we wish to collaborate in an environment that fosters an ambience of creativity, ultimately contributing to UKPA's growth and what we can offer to our members. Additionally, it is important that our office is in alignment with UKPA's sustainability-based ethos and goals for 2030.
22 Bishopsgate is the first building in the UK to apply for the WELL Building Standard and to have been awarded a BREEAM Excellent sustainability rating. This smart and sustainable building also procures only renewable energy, works with environmentally friendly products and partners that have sustainability at the core of their business. Moreover, 22 Bishopsgate follows a set of circular economy principles created to reduce waste, having as little an impact on the environment as possible. Members of the Exchange also benefit from access to a new app and online community where start-ups, SMEs and entrepreneurs can share ideas and grow together.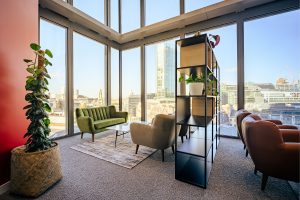 Managing Director at the UK PropTech Association, Sammy Pahal, says "The UKPA team are very excited to get back to an office environment, but especially one that is a great example of the future of the office industry. The smart building technology demonstrates the real impact of PropTech and the layout and idea behind the space embodies collaboration. Now more than ever, the office is needed as a space to bring teams, colleagues and industry peers together for businesses to thrive. As a membership organisation bringing the community together, this vision very much aligns with our mission and we're looking forward to helping to create this community feel by running a series of events in the space."
Morgan Pierstorff, Development Director at NewFlex, adds "UKPA's mission to create a conducive environment for PropTech innovation aligns perfectly with the values of the XCHG – where collaboration, engagement and ideas can be shared freely to create real change. We are delighted to have them on board as a stakeholder in our curated Property Innovation Hub and look forward to working together."