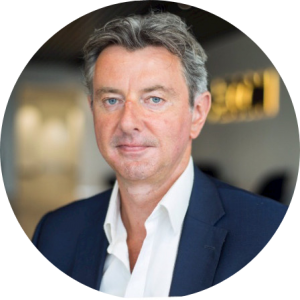 In our latest Members Spotlight Interview, we spoke with Alex Tosetti, Chief Commercial Officer at VU.CITY. VU.CITY helps people organise, visualise & analyse city data in the clearest & most accessible way to make better decisions.

Alex shares his views on the future of digital twinning, insights into their recent milestone, a fully cloud based application 'VU.CITY Cloud' and where the industry is headed in the next 2 – 5 years…

---

Q: VU.CITY helps organise, visualise and analyse city data in a clear and accessible way to ensure better decisions. Can you share insights into technology behind this?

A: VU.CITY is a unique 3D digital smart city platform for multiple stakeholders including, importantly, citizens.

The visual appeal of the way it models cities, buildings, infrastructure and even trees, to a 15cm accuracy, make it a trusted factual platform that provides a truly agnostic evidence base for multiple stakeholders to use.

We do not rely on third party proprietary modelling data or maps as it is all original VU.CITY DNA. For all the 20 cities modelled to date, real world aerial imagery has been captured, and using state of the art stereoscopic photogrammetry techniques we have created original surveys. This has then been manually and meticulously modelled by a talented team who have overlaid factual data from various sources and partners.

The platform is curated with differing levels of colour and rendered detail, highlighting, for instance, all major consented schemes, those buildings being built, conservation areas, protected views and listed buildings. We can also show sun paths, shadowing and daylight, sunlight impacts, along with other micro-climate data such as wind, noise and air pollution.

The output is an interactive platform, driven by game-engine software, that provides the immersive user experience. A friendly technology, it can be used extensively within collaborative teams, enabling better design and faster planning decisions. Both public and private sector clients can use the platform for quantitative factual baseline information to make qualitative decisions in a visually informed way.

VU.CITY is firmly in the property part of the PlanTech sector and it is our ambition to geographically increase this market across cities in the UK and globally.  At the same time, we're looking to expand into other verticals where we feel use-cases are in demand, such as utilities, telecoms, energy, 5G, EV mobility infrastructure markets and even advertising.
 
Q: What are your views on the future of digital twins in the built environment?

A: The Digital Twin concept can be used at a macro master planning or individual building level, and the adoption of this technology rapidly expanding. The MHCLG's recent White Paper on 'The Future of Planning' reflects that local plans will need to be updated more frequently, be shorter and use PlanTech to help facilitate and speed up planning. The proposals in the White Paper clearly stipulate the use of digital technology being used to help change the industry and implement delivery.  I'm truly excited about this vision. It's something we wish to support, while also influencing its direction of travel. It means that the concept of the Digital Twin can start at the project's planning stage and build its maturity through the design and construction stage, to soft landings and asset management. 

VU.CITY has already been adopted by more than 80% of London's local authorities, plus Belfast, Bristol, Cambridge and Salford City Council. In addition, many forward-thinking private sector users, such as architects, developers, planning consultants and agents are embracing it. We are looking at a huge public sector adoption rate to the point where they will be mandating digital technology for all projects going through the planning system. For me, this is the digital revolution. We are now considering the value and adoption of the use of the digital twin in the whole life of a project or asset. VU.CITY will be a real game-changer as we can easily transition our current platform offering into a real-time digital twin at both macro and micro scale. 

Q: You have recently launched VU.CITY Cloud, can you tell us more about what this involves?

A: VU.CITY 'Cloud' has all the benefits of our desktop platform and more, allowing that greater accessibility which so many of us need to work remotely. COVID-19 has been one of the drivers for this step-change and the way we work as an industry and since launching we have had great feedback from our public and private sector users.

Q: How does the Cloud enable better, faster virtual collaboration across projects?

A: A fully cloud based application is a milestone in VU.CITY's short start-up history. It can now support our users working from anywhere across all of the 20 UK and international cities we cover.  Adoption rates, ease of use, entry time and measuring user-characteristics simply allows us to enhance the service we provide and also scale the business. This makes rolling the platform out across multiple teams easier than ever before, with no special hardware or installation required – only a solid internet connection.

Cloud supports our users with a stronger virtual collaboration potential across projects and also means the platform is constantly live and up to date. As a smart city platform, we are always developing and adding product functionality and data to help the built environment stay ahead, streamlining the planning process, working together and making better decisions, faster.

Our VU.CITY cloud platform has already increased usership and speed of access to multiple channels. With the increased requirement for virtual planning during the recent lockdown period, we've heard of many great examples where planning committees and planning permissions have continued. Through using Your.VU.CITY, our free Cloud-based public engagement tool within the platform, we are enabling more accessibility for citizens to participate in, and view, ongoing projects in their cities. We are also working with local authority users of this technology to consider how they can create a better civic engagement process.

Q: Lastly, where do you see the industry heading in 2-5 years?

A: Digital technology will undoubtedly be embedded into everyday business in our industry. The digital train has left the station, so either it's about staying onboard, pioneering or playing catch up. We are shifting from a traditional analogue industry to a fully digitalised service, bringing with it efficiency and speed of delivery in all aspects of the project life-cycle.

There will be a battle over standardisation and bespoke creativity. Our industry is full of scientists and artists and it will make for a different mindset, a shift in education and re-skilling. Just look at how COVID-19 has forced change already, with respect to IT adoption, team collaboration and online working. We have leaped forward five years within the five months of lockdown alone.

Virtual planning committees might well be the norm, with public consultation through visualisation technology rather than posters on lamp posts and hoardings. Apps and maps will replace traditional wordy documentation, while virtual reality and machine learning will improve user experiences. Public sector departments will be fully digitalised, sharing data and mandating the use of digital technology from private sector developers.

In the private sector, the traditional project management of complex schemes will be streamlined by using more digital applications, to enable faster design and planning decisions, with multiple stakeholders participating and contributing to hosted project platforms. Gone are the days of 20 different disciplines sitting around a fortnightly project meeting, only to come back two weeks later with modifications, design edits and decisions that can now be made in minutes. Then there's also the inefficient time and carbon count that can be saved
 
This, however, is just PlanTech. The whole life cycle of projects, starting with PlanTech, through DesignTech and BuildTech to Asset Management will change. The concept of the Digital Twin for built environment assets will be commonplace, just like it has been for the aviation and automotive industries for a number of years already. We are seeing changes already in our property and construction industry with infrastructure and built assets being developed 'as a service' rather than ownership. There is now a huge push in construction for precision made, digitally enabled off-site manufactured products. Speed to market in an Amazon world of 'I want it now' is driving technology markets and creating a new shift in how we streamline our industry. Best get on that train.

VU.CITY will be central to this technological revolution and significantly contribute to a cultural shift throughout our industry, as it will also influence the behaviour of citizens. This goes to the very core of our ambition to make VU.CITY the smart city platform of choice and the one that creates the best possible cities for all.

These are exciting times and if we can replicate the market we are generating in the UK, there is no reason why we can't be in 500 cities around the world in five years time, helping to achieve an improved, global, citizen-centric urban environment.