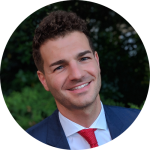 We spoke with Nick Christoforou, Founder of The ZEUS App, the ultimate online property valuation tool for sales and lettings.

Nick discusses the inspiration behind setting up The ZEUS App, their month on month growth, closing a funding round during the pandemic and how they see technology evolving at The ZEUS App…

---

Q: The ZEUS App provides fast and accurate virtual property valuations. Can you share insights into the technology behind this?

A: Yes, of course. It's a really simple two sided platform, with property owners on one side and estate agents on the other. Property owners enter their property details via the app and then they submit this information to all the local estate agents that are also using our app. The agents then respond with a personal tailored valuation based on the details provided, usually within just minutes or hours. Our average user within one of our core areas will receive 5 independent valuations within 5 hours. The app also provides you with an average valuation of the ones provided, all presented is a neat graph. This average valuation is consistently within just 5% of the eventual deal price, for both sales and lettings. This level of accuracy is something we are really proud of. The technology really is that simple.
You could say it is a hybrid between an algorithmic valuation and a traditional physical valuation, delivering highly accurate results.

According to Zoopla "98% of prospective vendors now want virtual valuations", and we are the ones satisfying that demand.

Q: What was the inspiration behind setting up a virtual valuation platform?

A: A little while ago I wanted to sell my newly refurbished apartment. I was intrigued to understand the new value following the upgrades I completed. It took me two weeks to get four valuations from four different agents. It entailed various phone calls, emails, messages and appointments. A time consuming and tedious process for both parties. Then, when the agents finally arrived, I didn't want a glossy brochure or a half an hour chat, I just wanted their valuation and fees, to help make an informed choice on who to instruct.

I then realised there must be a better way to streamline this process. So I created The ZEUS App. A virtual valuation tool for sales & lettings.

Q: As a business how have you dealt with the pandemic?

A: Good question. It has actually been a really interesting period for us. It began terribly with estate agents being forced to close for several months. But since they have reopened we have managed to deliver huge value for our user base. With social distancing measures in place for the best part of 12 months, virtual tools have become super fashionable. So we were perfectly placed to ensure property owners were still able to safely obtain accurate property valuations, and that estate agents were still able to obtain high quality valuation leads.

We are delighted that during a time when so many people and businesses have been negatively affected, we have actually been able to help our industry.

For 6 consecutive months now we have witnessed month on month growth. The challenge now is to prove that going forward our concept remains valuable and the accuracy it delivers is genuine. We believe the behavioural shift is here to stay and we have the data to support that.

Q: Can you share any significant breakthroughs The ZEUS App have had?

A: Yes, sure. The most significant breakthrough we've had was closing a funding round during the pandemic. Anyone who has attempted to raise money for their business or start-up will tell you it is the hardest thing they have ever done; during a global pandemic it is even harder! So we were delighted at achieving this milestone. A huge shoutout to Jenson our funding partners for their continued support.

I guess it was just lucky timing, our concept is principally 'remote' and 'contactless', two common buzzwords that everyone has come to be familiar with during the pandemic.

Q: How do you see the technology evolving at The ZEUS App?

A: We regularly update the app based on user feedback and strive to provide the best possible experience for all our users. We have a whole host of secret new features in the pipeline, we can't wait to share them with you!

Although valuations are at our core, the natural progression for ZEUS is to evolve into a complete hub for the sales and lettings journeys. We have already facilitated complete transactions, from virtual valuation to tenant move-in. But many of the elements involved in this process were undertaken 'off app'. So we are working on bringing them 'in app' to streamline the whole process, further increasing value for our users.

We want The ZEUS App to become a household name. We want to be the first thing someone thinks of when they are considering selling or letting their property. and the number one companion for agents across the country. Watch this space.