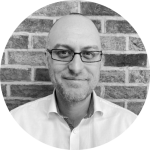 In our latest Members Spotlight Interview, we spoke with Mark Irwin, Chief Marketing Officer at SOLD.CO.UK, the complete home selling service.

Mark shares insights into the inspiration behind SOLD.CO.UK, how their versatility and speed separates them from competitors and their recently launched tailored service for selling a property, Proffered…

---

Q:What was the inspiration behind SOLD.CO.UK?

A: SOLD.CO.UK was driven by a desire to give home sellers more. More agency in how they sell their home, and more power over how long it takes to sell. The average time taken for a high street estate agent to sell a property is 6-9 months. This seems like madness to us! And wholly unnecessary. At the root of this is overinflated pricing and unmotivated buyers, both of which are completely avoidable. This inspired us to create SOLD.

Starting with our "Enhanced Listing" service, we provided homeowners a route to sale that takes just 30 days. Our tech led approach to valuations through data profiling and electronically analysing provide an accurate and realistic price for the seller, which we then market to our network of over 15,000 pre-qualified and motivated investors. Since then, we've diversified our service to suit the increasing demand of our customers. Home sellers today expect a higher level of service than ever before, and this includes more choice in how they sell and more power over how their sale unfolds. We've accommodated for this. Our new Custom Purchase and Online Auction routes provides home sellers with even more choice and the capacity to determine how and when their property will sell.

Q: What separates you from competitors?

A: Versatility and speed. Unlike our competitors, whether that be bricks and mortar estate agents or online listing services, at SOLD.CO.UK, we provide a comprehensive range of selling services under one roof, all designed to achieve a sale in 30 days or fewer. It is completely up to the seller to choose which route suits their needs most. We work with home owners to provide a service that is bespoke to their financial expectations and time requirements. We provide a completely managed service regardless of which route our seller chooses, ranging from managing viewings to instruction solicitors. In addition to all of this, we don't charge any fees.

Q: You recently launched Proffered, can you tell us more about what this service involves?

A: Proffered is an iBuyer which envisages a world of frictionless property transactions. It partners with companies from a variety of sectors to provide a tailored and seamless selling route for their customers. Engaging with exciting new prop-tech, to source, profile and then seamlessly analyse over 4,000 distinct data points, proffered formulates accurate and makes a conditional offer to buy any property in the UK. By streamlining and innovating property buying process, we are able to offer competitive, fair rates. So far, we are currently partnered with a range of companies, including national legal firms, leading FS providers and Legal 100 solicitors to provide an alternative route to property disposal for their customers. We look forward to expanding this service and are excited to embrace upcoming technological advancements that will streamline the selling process even further.

Q: Lastly, where do you see the industry headed in 2-5 years?

A: COVID-19 and subsequent government restrictions prompted a drastic shift in how the industry interacts with its customers, with even the most obstinate of dinosaurs forced online. By embracing the virtual world, the property sector has succumbed to providing a level of convenience previously only seen in the e-commerce sector, and we don't envision this changing. Whilst much of what we do was already online before the pandemic hit, this past year has been a real catalyst for us, as we were forced to rethink our more physical processes. Now, our entire on-boarding and verification process is online, and we conduct virtual tours on every property we list. Customer's will continue to demand a seamless and convenient experience from our sector post pandemic, and any company unwilling to embrace digital transformation to keep up will get left behind. We for one are excited about what's to come.