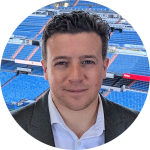 In our latest Members Spotlight Interview, we spoke with Benjamin McGee, VP Sales at RealPage, a global leader in property management software and data analytics.

Benjamin discusses how technology has evolved at RealPage since 1998, insights into their global strategy and what their CommunityConnect Solution means for their European offering…

---

Q: RealPage, founded in 1998, is a global provider of real estate software and data analytics. How have you seen technology evolve over the years?

A: RealPage developed the first-ever cloud based property management system for the real estate sector and even today RealPage continues to future-proof our solutions and continually look for new ways to innovate.

As technology continues to evolve, the needs and the expectations of the customer change, too. If we look back in time, American researcher, scientist and futurist Roy Charles Amara shared his adage about forecasting the effects of technology, which has become known as Amara's Law and states: "We tend to overestimate the effect of a technology in the short run and underestimate the effect in the long run." We truly believe this, and we observe that features initially considered "nice to have" quickly become things clients can't live without.

Over the years, property investors, owners and managers have been looking for ways to not only improve the way they operate their properties but also provide a first-class customer experience. By listening to our client partners, we continue to create the most innovative technology that's changing how the world experiences, utilises and monetises BTR, Commercial and Student rental space.

RealPage provides SaaS solutions to over 19 million units, giving us global insight into the entire industry and allowing us to work in partnership with our clients as the demands on technology continue to change and grow more complex.

One thing is for sure: Those demands are increasing, and property investors, owners and managers are increasingly relying on technology to support their decisions, manage their properties effectively and delight their customers.

Q: Can you give us an insight into your global strategy?

A: RealPage's global approach aligns with our customers' local needs. Operators are increasingly diverse in their geographic locations and there is increasing consolidation in the market amidst ongoing acquisitions by the largest operators. RealPage remains localised but connected globally and that is very much driven by our customer base and specific market needs.

As an example of our focus on local requirements, we do not anticipate that a U.K. BTR operator could use the exact same solution as a U.S. multifamily operator—there are different workflows, different languages, different regulations—which is why we build solutions that are flexible for the local needs of the marketplace.

And here in the U.K., we are focused on delivering a technology implementation strategy that allows our customers to be up and running within 30-60 days.

We are investing heavily in client success, engagement management and post-sales engagement. These are very specific common challenges. Clients are coming to us who've had implementations training and on-boarding challenges in the past, and we are on a mission to make the conversation about switching providers less dramatic and fearful—it doesn't need to be stressful.

Q: What separates RealPage from competitors?

A: In one word, data! We are hyper-focused on allowing our customers to utilise their data to maximum effect, helping them to identify hidden yield and gain critical insight and clarity into performance across an entire portfolio. This is an operational advantage that can make it faster and easier to Identify risk and opportunity and, ultimately, accelerate profitability.

We want our customers to have absolute ease of access to reporting and usability of data. We have an "open for business" mentality about how data can change not only a customer but an industry.

RealPage's mission is to serve our customers above anything else—meeting the real-world needs and requirements of our customers now and in the future … helping them solve issues they may not yet even realise they have.

We take the concept of revealing hidden yield very seriously at RealPage. Today's challenges require new ways of working. Only RealPage provides the connected intelligence that owners and operators need to identify and capture new sources of value in all aspects of property management. Our in-depth expertise and absolute focus in the real estate sector leverages decades of experience in the industry and the technology that keeps it moving forward.

Q: Tell us more about the CommunityConnect Solution and what it means to your European offering?

A: The acquisition of Stratis in 2020 has further strengthened our product portfolio. Our CommunityConnect™ solution allows clients to deliver the conveniences residents demand and the technology their teams need with a one-stop shop for community-wide smart access to buildings and units, smart devices and ultra-high-speed Wi-Fi throughout a property. This enables fingertip control and monitoring of locks, thermostats, lighting and more to boost resident satisfaction and address sustainability.

We are finding across the board, whether the property portfolio includes Residential BTR, PBSA, co-living or commercial or a combination of all of them, that more and more developers and operators are looking to adopt smart building technology in their properties. One of the challenges of smart building technology is the disparate systems and how to manage them conveniently—both from a resident perspective as well as from an operator perspective. CommunityConnect delivers a comprehensive solution that allows residents to access their building and control their smart technology from one app. And with the Management App, property managers and staff can easily move residents in and out, plus monitor energy usage in vacant units and common areas, all while creating a seamless experience for their residents.

Q: Lastly, where do you see the industry headed in 2-5 years?

A: Consumers are the natural drivers of the industry because they all use technology differently. Millennials grew up on technology and Gen Z, right behind them, is cutting its teeth with automation and imagery. Half of today's workforce is comprised of Millennials and that's expected to grow 25 percent in the next few years.

There are three technology trends that have long-lasting potential to redefine multifamily. The renter and operator experiences are transforming through immersive experiences, artificial intelligence and smart spaces in the shared economy:

1. Immersive Experience
In recent years, immersive experiences have been created in multifamily and commercial spaces. Prospective residents are experiencing 3D walkthroughs of apartments and offices without ever setting foot in the physical space. Augmented and virtual reality are enabling more personalised experiences and are expected to take this concept to new levels. The future holds an interactive, self-service experience that enables the prospect, for example, to hold up his or her cell phone to an area of the property and see amenity details and pricing or how furniture styles look in the space.

2. Artificial Intelligence
Going well beyond Alexa, artificial intelligence is making a big leap through identity verification. It's already popping up at airports in the security line, where facial recognition kiosks are confirming passenger identities. For multifamily, facial recognition can be used to verify prospects, guests or service personnel coming and going at the property. AI is already being used in the screening space. Also, automated conversational interfaces like Alexa and Google Home are poised to be everyday personal business assistants for property management operators.

3. Smart Spaces
With billions of devices now IOT-enabled, more will start happening with smart spaces. This technology has more potential than just turning on lights, locking doors and opening blinds with a touch on a cell phone. Access control in multifamily is fast becoming the next area of innovation, enabling residents to book and utilise amenity spaces and services and ensuring an automated system for access control that will interact with the property management system.