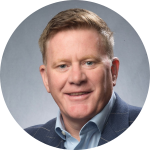 In our latest Members Spotlight Interview, we spoke with Dermot Briody, Executive Managing Director, Europe at MRI Software, a leading provider of innovative real estate software applications and hosted solutions.

Dermot shares insight into their global strategy, innovations they are working on, what they look for when acquiring a company, and advice for PropTechs startups.

---
A vision for PropTech – from MRI Software

Q: MRI Software is a global provider of innovative real estate software applications and hosted solutions. Can you give us an insight into your global strategy and any innovations you're working on?

A: The real estate industry was experiencing a technological shift before the COVID-19 pandemic – and it's only been accelerated by the events of the past 15 months. Closed systems and old tech are making way for modern, flexible and connected solutions. As a result, we've seen many of our largest clients embark on major digital transformation projects in the last few years, while smaller start-up organisations are making forward-thinking investments in software much earlier in their journey.

With our 50 years' experience, we fundamentally believe in our ability to support both ends of the spectrum – helping our clients and prospective clients to implement their technology vision for their business. To do that, we are committed to delivering world-class software, services and support, each and every day. We are relentlessly focused on innovation, both through investment and acquisitive growth. And we have the enterprise scale to deliver – with more projects completed in 2020 than at any other time in our history.

These are themes and topics that we'll be covering in much more detail for clients at next week's MRI Ascend Europe user conference – the biggest single-vendor PropTech event of its kind in the region. For 2021 we are virtual, delivering 40+ online sessions across six dedicated streams that cover the road ahead for real estate and the technology solutions that will play their part.

Q: MRI Software has made many acquisitions over the years, most recently, you announced you have entered an agreement to acquire Manhattan Real Estate & Workplace Solutions from Trimble. Can you tell us more about this acquisition and what you're aiming to achieve?

A: Given the heightened focus on the workplace experience, many companies are reimagining their approach, and this brave new world will require flexible technology to manage new concepts and ideas that are implemented. Based on our conversations with clients, most companies are already looking at how they will balance remote, in-office, and hybrid arrangements for employees. Buildings must be well-managed, secure and safe for all parties – landlords, tenants, visitors, service providers or anyone else. Therefore, it is more important than ever to enhance the comprehensive capabilities of our IWMS solutions to enable the increased business agility that organisations need to succeed.

With Manhattan as part of the family, we extend the range of our occupier and workplace solutions, providing a broader scope of offerings for commercial property owners, operators and tenants worldwide. The acquisition will enhance MRI's Integrated Workplace Management System (IWMS) offering with robust workplace booking, scheduling and facilities management capabilities. We have further strengthened our capabilities in this space with another recent acquisition, WhosOnLocation, which provides an integrated solution that empowers organisations around the globe to address workplace safety and security.

But while these recent acquisitions are in the headlines, it's important to emphasise that they form part of a much broader suite offered by MRI. Around the world, and particularly in the UK, we serve virtually all asset classes and market sectors. In the occupier space alone, our platform extends beyond just the workplace into lease accounting and lease management – used by more than 3,500 clients globally. And globally we deliver solutions to more than 20,000 organisations across owners, operators, managers, investors, tenants and residents, powered by a team of 2,000-plus across our North America, EMEA and APAC offices. With software that addresses all aspects of a lease, unit, property and portfolio, we believe we have a unique vantage point to be a technology partner that can truly add end-to-end value.

Q: Can you give an insight into the types of companies you are targeting to acquire in the near future and if the recent pandemic has had any impact on this?

A: Whatever the industry or sector, businesses need to make sure that a target acquisition makes sense from a strategic perspective. They also need to make sure the company is the right fit in terms of its technology and marketplace, as well as approach, objectives and culture. As such, any acquisition made by MRI needs to support one or more of the following:

• Expand our product line to meet changing client demands or expectations
• Facilitate geographic expansion in a region that we're looking to enter or where we want to increase the scale of our presence
• Service an adjacent or related market that's underserved.

We take great care to ensure that acquired businesses' corporate objectives integrate with our existing aims and provide an excellent cultural fit. And the criteria for acquiring companies does not change because of a crisis – even one as sweeping as the COVID-19. The wrong acquisition just to get a COVID-19 bargain would be a huge mistake for any company. You have to make deals like these with the long-term benefit in mind. All of the acquisitions we've made in the past year have been thought-out moves that reflected the underlying needs and strategy of our business – first and foremost to add value for our existing and future clients. This will continue to be the case moving forward.

Q: What advice would you give to start-ups in the PropTech space?

A: PropTech is a hugely exciting space with many opportunities that start-ups can seize. The most successful start-ups are the ones that have defined and understood a problem, and have developed a targeted solution. Companies like Fixflo and VTS are great champions of this approach. You might also look to prepare for that next unknown (who would have thought that 2020 would go the way it has!?). Either way, you don't have to promise to solve everything.

Indeed, focusing on a specific area and then building in the ability to link into an existing PropTech ecosystem and its data sources can be hugely beneficial to building start-up success. Embracing collaboration with other industry players is vitally important because no company can solve the entire industry's problems by itself with one app – even a provider as broad and comprehensive as MRI. Partnerships are, in fact, one of the pillars of our success – and it's our open and connected approach to technology that has allowed us to remain at the forefront of innovation for 50 years. We partner with companies of every size because what's important to us is the value proposition they can bring to our technology ecosystem and our customers.

Q: Lastly, where do you see the industry headed in the next 2-5 years?

A: The property sector is constantly evolving, driven by economic, environmental, regulatory and social factors that shape where we live, work and play. To prosper, players of all sizes need technology that enables them to move fast, identify opportunities, create efficiencies and deliver outstanding service. The simple fact is that no single technology provider can ever develop solutions to suit every potential scenario.

That's why, as property technology pioneers, MRI champions an open systems approach that allows innovative, differentiated services to be created much more easily. PropTech has more than its share of start-ups, which can certainly thrive if they find the right niche and build a solution that works within a broader property technology ecosystem. If they can do that, their clients will see the clear benefit of leveraging a connected solution that delivers for the back-office and front-office, as well as at a strategic level for planning and analysis.

The MRI is based on the concept of taking a personalised selection of real estate and enterprise software applications and enabling a single user experience. The idea is to enable our clients to develop a comprehensive platform stack built on our ecosystem of products and Partners, to their requirements. It is about freedom, and choice. Our partnership program has long been an integral component of our open-and-connected strategy. We are now aiming to extend its reach into new geographies and expand our offerings to provide even greater flexibility. Being able to select the solutions that work best for their business, and use them in a single experience allows, clients to remain agile and rapidly adapt to change in an uncertain economic environment. The result is an ability to connect people, property and data – which is undoubtedly what PropTech at every level needs to do in the coming years.