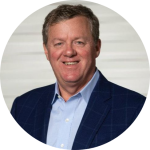 In our latest Members Spotlight Interview, we spoke with Robert Courteau, CEO of Altus Group, a leading provider of independent advisory services, software and data solutions to the global commercial real estate industry.

Robert shares insight into how their innovative solutions drive digital transformation, exciting developments in the pipeline, views on the future of data usage and where the industry is headed in 2-5 years…

---

Q: Altus Group is a trusted partner to the CRE industry, can you share insights into how you are driving digital transformation through innovative solutions?

A: The trends that have defined our industry are being accelerated by the current COVID-19 crisis including working habits, shopping habits and travel preferences. The pandemic is proving a powerful catalyst for change particularly around the digital transformation and its potential.

From where most of us sit, change looks fast-moving and unpredictable. Anyone who thought they could run a business without understanding risk is probably learning the hard way. Technology cannot predict the future, but we are now seeing the industry deploy systems that can set scenarios and improve insights.

This is a global crisis, but the effects are localised. The ability to assess macro trends and couple that with real-time data will drive the new opportunity set. Although real estate data is foundational, the ability to marry it with information like consumer trends, economic drivers, tenant expectations and even global supply chains will define the big investment ideas.

Q: Can you share any exciting innovative developments that are in the pipeline at Altus Group?

A: The pandemic presented a serious test for cloud-based platforms and they came through with flying colours. It has kept us and our clients connected, efficient, collaborative and productive. More than ever cloud technology has proved indispensable.

The cloud opens up a whole new realm of possibilities for us. We can multiply functionality many times over by linking to other platforms. We can enable better customer decision-making by putting global data to work for them. We are also building a collaborative platform that allows clients to collect and share information within their company and with their partners, dramatically increasing insights.
The big opportunity for us is getting new functionality to market to address industry problems and clients' needs.

We've already created a powerful integrated suite of software in the cloud for investment managers, taking assets and portfolios from acquisition through management to eventual disposal. The continued development of our cloud strategy is reflected in the announcement of our ARGUS API. We recognise the importance of creating an ecosystem that integrates data, applications and platforms across a client's environment. We're working on exciting solutions and collaborating with other industry leaders to further deliver on this.

Q: Altus Group provides real estate solutions for acquisitions, investments and developments. What are your views on the future of data usage across these areas?

A: Some of the trickiest questions at the moment are: what's a property worth? How do you understand the value of your acquisitions or assets if there are no transactions? How do you evidence values that aren't based on a mid-crisis slump?

These are great questions; we recently held a webcast on sensitivity planning in a COVID-19 world and had over one thousand people register. We see more modelling work taking place than ever utilising our ARGUS platform. Some of that is concerned with risk and cost reduction but a lot of modelling is focused on valuation.

In the midst of the current unprecedented period of fluidity surrounding valuations, now more than ever investors and fund managers are looking for greater transparency and more frequent valuations to maximise investment performance.

Through our Valuation Management Services, we review more than 8,000 valuations every quarter and aggregate and benchmark approximately 400 data points from each of those reviews, collecting over three million valuation data points in total. These valuation data analytics are reviewed daily and matched with property income and appreciation returns to provide insights into property performance against a peer set and how assets will likely perform in a volatile market.

We are going to see an explosion in data sharing across our industry. It has been common to find companies that wanted access to everyone else's data without sharing their own. The crisis has shown a greater expectation of transparency. Tighter regulation is coming. In that context, resistance to sharing is evaporating.

Q: Can you tell us more about Altus Cares and the aim behind this initiative?

A: Altus Cares is the banner under which we support the communities where we live and work. Through volunteerism, partnerships and charitable giving, we focus on the causes and organisations that our employees, clients and stakeholders are passionate about, with a specific emphasis on children and their families. Whether it's providing employees with hands-on volunteering opportunities, collaborating with local universities, or sponsoring charity events, Altus Cares demonstrates our commitment to making a positive impact across all of our global locations.

These efforts dovetail with our internal Diversity & Inclusion initiatives which include regional committees and affinity groups, cultural celebrations and training for employees at all levels of the company. It's very important to me that we create an inclusive environment where everyone feels equal and valued and that they can be their true selves when at work. I'm really proud of the work we're doing in this area. It's exciting to see the interest and commitment of our employees and the way these initiatives are continually evolving.

Q: Lastly, where do you see the industry headed in 2-5 years?

A: Tech companies have embraced 'Work From Home' but innovation happens when people are together. I truly believe that urban centers will ultimately survive and thrive for all of the reasons that we have observed over the last 15 years. However, traditional "same shift" commuting will be avoided now and in the future, where possible. The dynamic of a hybrid work force will accelerate the value of suburban markets and satellite cities.

Acceleration of mixed-use buildings and neighbourhoods will form new and interesting investment opportunities. Technology will be a driver, including high-tech touchless offices, capable of tracking the movements of individuals, and creating healthy and safe work environments will be paramount. The climate change emergency is pointing us in the same direction, but it's the pandemic that will trigger widespread adoption. That means a lot more sensors and a lot more data. We can't underestimate how many assumptions that will challenge and how it will advance the real estate industry.