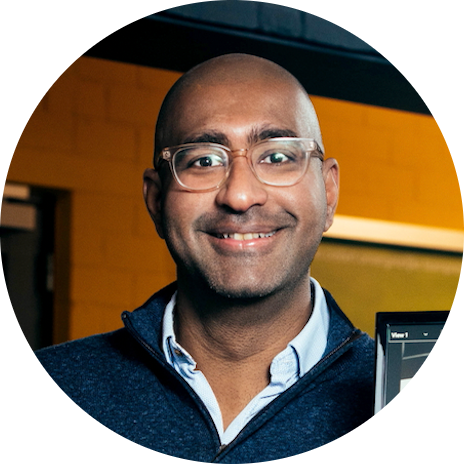 In our latest Members Spotlight Interview, we spoke with Rishi Lodhia, Managing Director EMEA, Eagle Eye Networks. Founded in 2012, Eagle Eye Networks is No.1 in cloud video surveillance worldwide, addressing the needs of businesses, alarm companies, security integrators, cities, and individuals.

Rishi shares insights into the problems the company is solving for the property industry, such as data privacy and cybersecurity, as well as his predictions for future advancements in the PropTech industry…
---
Q: Eagle Eye Networks provides video solutions for a range of different industries. What problems does your solution solve in the property industry? And what lessons can the property industry learn from other industries that may be further ahead with digital transformation?
A: The property industry faces numerous issues, both historically and as a result of the pandemic, that Eagle Eye Networks helps solve. First, during the pandemic it became clear that buildings needed to be monitored remotely. Remote monitoring was challenging in most cases, and in many instances it was simply impossible. PropTech owners increasingly turned to cloud video surveillance for simple, reliable remote access to video, and much more. Property owners were happy to discover that Eagle Eye Networks is able to reuse existing cameras, both IP and analog—essentially transforming an old system into a powerful cloud video surveillance system. Interestingly, while the usage of analog cameras has been on the decline for years, Eagle Eye Networks research showed an increase in the percentage of analog cameras connected to the cloud in 2020. We surmise this trend reflects the ability to reuse analog cameras in cloud video surveillance systems, which accelerated during the pandemic.
Secondly, the integration of video and access control is necessary nowadays, and Eagle Eye Networks offers seamless integrations with Salto KS and Brivo, and the ability to integrate with other technology partners. Integrated systems enhance security and multiply the business intelligence that is provided to property owners, allowing them to see trends and optimize operations. Essentially, the video and access control function are the foundation of a smart building to which building sensors can be added.
Thirdly, a common goal in the property industry is to streamline the management of multiple locations. With a cloud video surveillance system, all cameras can be managed from one central platform with search functionalities based on geo-location of the camera or tags such as where the camera is located.
Q: As a global company, how have you managed the differences in regulations and policies in different countries?
A: Eagle Eye Networks is a global company with an "act local" approach. We have local sales teams on the ground in countries around the world, and we have 11 data centers that were purpose-built for video surveillance around the globe. One example of how Eagle Eye Networks addresses complex local regulations is retention. For example, in the U.S. cannabis industry, different states have varying retention requirements. While this would be difficult for a multi-site on-premises solution to manage, it's simple for a cloud video surveillance solution to manage different resolution and retention requirements not just for each site–but for each camera in each site in a system. Similar situations are common in Europe. In The Netherlands, for example, government projects require 28 days of recording, and not a day longer, while Switzerland requires 31 days. These different regulations and policies can easily be facilitated by our cloud video surveillance platform.
We comply with GDPR in Europe and local privacy laws and regulations as well as work with compliant and certified partners for our data centers. We encrypt all data and take other necessary measures to protect privacy and data. Our true cloud architecture allows us to provide extra layers of protection unavailable to on-premises providers. It's important to note that a camera alone cannot be "GDPR compliant," compliance requires end users to develop and implement policies and procedures that endeavor to achieve the requirements of the laws, regulations, and requirements of the jurisdiction where the system is deployed.
Q: As with any technology, there are often concerns of cybersecurity breaches. How does your technology address this risk?
A: We take privacy and cybersecurity seriously. Our founder, Dean Drako also founded Barracuda Networks, a global leader in cybersecurity and brought that knowledge and expertise to Eagle Eye Networks to ensure we provide the most hardened system available to protect data and privacy. Eagle Eye on-premises video appliances are managed from the Eagle Eye Cloud Data Center and are automatically kept up to date with security and feature updates. Resellers and end users do not need to install or update anything on site. Cloud video surveillance continuously delivers updates via the cloud, relieving installers and customers of that cost and hassle, and allowing them to focus on their own businesses. This is a major selling point for cloud video surveillance.
Q: The company launched back in 2012 and a lot has changed since then. What have been your biggest lessons and how have you seen the industry changed?
A: As a tech company, the belief is that you can change a market quickly with superior technology. However, the video surveillance industry has its foundation in installing cameras which requires specific knowledge in terms of what cameras need to be installed where. It takes time to show resellers the benefits of the cloud versus traditional on-premises systems. The market landscape is gradually changing. More and more, we find it is the end user who is asking for a cloud solution–they don't want any on premises solutions as part of their IT infrastructure.
Q: Where do you see the most significant advancements in PropTech happening over the next 3-5 years?
A: Definitely the use of artificial intelligence (AI) and analytics to make buildings smarter will continue to gain traction in the proptech industry. We have just acquired a company called Uncanny Vision, a leader in AI and analytics for video surveillance. Uncanny Vision's tools for training, building, and optimizing models, and its infrastructure for managing and storing training data are superior. This is a key component we're excited to add to the Eagle Eye Networks platform.
Uncanny Vision's award-winning AI is used today in multiple applications, including:
Smart parking

Retail analytics

Gate security

Toll automation

Smart cities

ATM monitoring

Worker safety

Perimeter security