As the global pandemic continues, hundreds of thousands of people, businesses and the economy are being significantly impacted. To gain a better understanding into the impact the pandemic is having on the PropTech industry, businesses and wider community, we sent out a COVID-19 Impact Survey to our PropTech members.
Here are our findings…
What is the greatest challenge PropTechs are currently facing?
The uncertainty around COVID-19 has had an adverse impact on confidence and fundamentally the economy. Thus it is expected that many businesses will see a decrease in demand and cash flow problems. This was reflected in our survey and was found to be the greatest challenge PropTechs are facing.. Whilst businesses respond to this challenge by focusing on existing business, stripping down operations, and seeking funding, if the situation persists, this could have a detrimental impact on start-ups, and will lead to some casualties.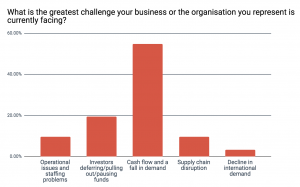 The second largest challenge PropTechs are facing is investors deferring, pulling out and pausing funds. UKPA Gold Member, Mike Bristow, CEO of CrowdProperty, who also sits on the Investment Committee of PropTech Venture Capital Fund Pi Labs and is a prolific PropTech angel investor suggested "one existing mechanism where the Government could ensure that early/growth stage, high potential UK businesses do not fail in this market due to cash shortage is the existing EIS scheme. Changing the current 30% income tax offset for investors to 100% should enable those businesses to more easily raise capital in this challenging market, ensuring a longer cash runway. It's critical that great UK startups don't get left behind in the packages to support the economy as many have huge potential to thrive and become world class in the long run".
How can the Government best support PropTechs?
The government has introduced a number of measures to support businesses and employees. These include;
• A job retention scheme which allows UK employers to claim up to 80% of furloughed employees' usual monthly wages up to £2,500 a month to avoid redundancy,
• Statutory Sick Pay paid to any employees absent due to Covid-19.
• Option to defer VAT payments
• Business interruption loan
Further initiatives include funding and aid from the Government. For more information on the Government initiatives above and others such as deferring commercial rent, visit their website here.
Whilst these measures are generous, we wanted to make sure they were suitable and sufficient for PropTech start-ups. The survey results and feedback from our members suggest that many PropTech start-ups are not eligible for the funding options, and more support is needed to survive this. Here's what our members are asking for:
• Directors/CEOs to be able to furlough and keep working.
• PAYE tax/NI payments to be delayed for all for 3 months as a default.
• Rent Relief for those companies in co-working buildings.
• Guidance on furloughing tier 2 visa holders.
• Further funding options – Grants for those that are not eligible for the small business grant or where the business interruption loan is not a viable option. Many of our early stage start-ups work in co-working spaces, or sublet offices which means they may not pay business rates and are therefore not eligible for the small business grant. It is also not clear how the local authorities will be able to contact those that are eligible for the grant as we suspect they will only have office addresses (which given the current situation will not be occupied). Regarding the loan, the banks are only lending to those they'd have previously lent money to, often wanting security too. With cash flow being the biggest challenge for our members, the lack of suitable funding options could force many of them to go bust.
What describes PropTech businesses over the next three months?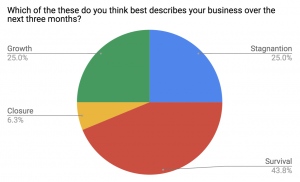 While the majority of PropTech's are in survival model, and some are being forced to close,
it is predicted that adoption of PropTech will rise in the long term. As property companies are forced to find ways to be able to maintain buildings remotely, conduct viewings virtually and process property sales online, PropTech is being looked at with urgency for the solution. As such, 25% of our PropTech members are expecting growth.
For example, Prompto are seeing an increase in demand for their 360 degree virtual tours solution during this time to bring properties to agents. Tanya Samuels, UK Sales Director at Prompto commented "The corona crisis forces all of us to rethink our business models. Property viewings are no longer allowed. Neither is meeting your customers face to face". As such, Prompto have introduced a free trial and 10% discount code on their solutions to UKPA Members.
Others are helping to address statutory requirements. On the 25th March 2020, Robert Jenrick MP stated that "buildings must continue to be maintained during the Covid-19 crisis" – as such to help slow the spread of Covid-19 with critical on-site maintenance, Forsite's technology eradicates the need for contractors to "physically" check-in or out of a building. Should a contractor develop Covid-19 symptoms, data from Forsite will provide a history of when and where that individual has been in your building to help direct cleaning operations. For more information, visit their website here.
Conclusion
As the pandemic has forced companies to adapt and adopt digital transformation, the next few months will be unlike any we have had preceding the virus. With 43% of our PropTech members in survival mode and 6% facing closure, the call to action is for the Government to provide easier access to emergency finance to PropTechs to help them through uncertain times. PropTech plays a crucial role in supporting the property industry and helping to address national challenges.
As the representative body for the PropTech community, we have shared the findings of the survey and recommendations with central government, and will be keeping members up to date with the response.
The UK PropTech Association is a not-for-profit membership organisation which represents the interests of the industry in regards to policy and legislation and industry wide issues/challenges.