Business is not about waiting for the storm to pass. It's about learning to dance in the rain
By Andrew Lloyd, Managing Director, Search Acumen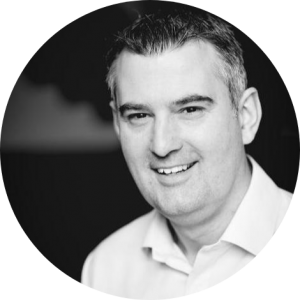 Companies are not responsible for coronavirus, but they are responsible for how they respond to it. We have seen a lot of talk of heroes and villains in the media over recent weeks. There is even an online tracker that reports on how companies and individuals have responded. Overall, the firms with a track record of doing the right thing and being flexible are better placed to weather the storms.
The current climate has been tough for everyone and we are particularly mindful of the challenges facing small and medium sized companies operating in the property sector, especially those that are less able to be flexible. The restrictions have stalled the majority of property transactions and home moves and therefore negatively impacted conveyancers and property lawyers. At the same time, we have seen some laudable efforts to support them, including a push towards digitising practices and avoiding posting documents that enable a degree of business as usual, even if it is much reduced.
At Search Acumen, it is an unrelenting focus on being guided by doing the right thing for our people, partners and customers that has informed our strategy and business activity at this time. We are firm believers in not just talking the talk but walking the walk – whether this is through our efforts to digitise the property sector or supporting our people – and so we have strived to do everything possible to support our staff through this difficult time.
Maintaining transparency and integrity
Clear communication on the direction of the business has been a key priority for us from the start of the pandemic. As such, we have a daily video briefing, where we openly discuss any impact on our bottom line, volumes and market changes. No questions are out of bounds and we encourage our team to ask any questions and air concerns for us to discuss as a team.
We have spent a great deal of time and energy recruiting and investing in the right people who are culturally aligned with our business. We are dedicated to retaining our team during this time of uncertainty to ensure that we are ready to hit the ground running once we come out the other side. As such, the senior team have been vocal that there will be no redundancies until we have exhausted all available resources, such as Government backed loan schemes, cashing in tax credits or cutting down working hours.
While traditional business activity has dramatically taken a hit and we are managing our finances accordingly, unlike some businesses, we don't see 'mothballing' or harsh cost cutting as an option. Now is the time to flex, explore new ways of delivering and innovate even faster as the current crisis opens people's eyes up to the new possibilities of working differently. As they say, necessity is the mother of invention!
As soon as remote working was put in place, we wanted to ensure that our employees felt supported – not just in their jobs but in their wellbeing and personal finances too. We developed a thorough guide that included the latest advice on where to go if you are feeling unwell and what to do if you are worried about finances – whether this is utility bills, council tax, loans, mortgages or overdrafts.
Since the conditions we are living and operating in are constantly evolving, ensuring we take care of employees' mental health is crucial. We are constantly sharing online resources, providing daily tips on working from home and how to stay focussed and connected. Our fantastic customer services team introduced a random calling scheme whereby everyone in the business is part of a different o video call each day. This allows those who don't typically interact across the business to form a connection and it also ensures anyone living alone maintains social interaction with colleagues. While times are tough, we also do not want to forget how to have fun together and the team has been successfully organising and holding weekly social activities from bingo to quizzes.
Opening up new opportunities
As it became clear that furlough was becoming more widespread, our ultimate aim is to ensure that every person has a job to come back to once we return to normality. In the interim, we are developing training plans to keep colleagues engaged and motivated.
Encouraging innovation continues to be central to how we operate and we are committed to helping all our people stay curious and open minded during the coming months. This will not only serve to enhance their personal development but our client service in the future.
A digital first approach has always been our primary objective and while this helped the transition to new ways of working both internally and with our clients, we have also had to be agile to ensure that they keep receiving the best possible service and support from us.
We are regularly taking stock of lessons learned during this time of transition. That way, when the storms pass, we can apply new ways of working that not only positively impact our team and clients but also the environment we live in. This might include increased working from home to continue flexible practices and cut down on carbon emissions resulting from regular travel.
Our aim of digitising the property sector and making it fit for the 21st century is still our unwavering goal. To get there we have to work together to weather the current storms. By doing the right thing for our people and our partners we hope not just to survive these troubling times but also learn to dance in the rain. As a result, we will emerge stronger, ready to embrace new ideas and opportunities to advance our mission.
Latest News
Member News
In our latest Members Spotlight Interview, we spoke with PropTech Gold Member, David Oates, Chief Revenue Officer at PRODA, an AI-enabled software to automatically capture, ...